Paint
Wasatch offers a full line of services for interior painting, exterior painting, and paint restoration. Our licensed and insured team uses top-quality products to ensure the job is done right the first time, every time. We have years of experience tackling painting projects from simple interior work to exteriors that had to be scraped, stripped, and repaired before we could apply a smooth coat of paint.
Our professional painting contractors can ensure that your home looks its best with a superior paint job! Wasatch can even handle your entire remodeling project with our extensive team of highly skilled contractors; from painting to hanging drywall, we can simplify your renovation by cutting out the middleman.
Whether you've got bare studs and need everything from drywall to painting or you're just looking to change the color of a room, you've come to the right place. Wasatch's professional painters can handle any size painting job, even if we have to start with the drywall.
Interior painting commonly involves:
Ceilings
Walls and Trim
Drywall/Sheetrock
Wallpaper Removal
Cabinet Painting
Scraping, Sanding, and Caulking
Paint Stripping
Interior Finishes and Skim Coating
Wasatch is dedicated to providing you the best in customer service and quality work, so we never cut corners just to save time or money. You can trust us for a thorough, complete interior paint job done right!
Exterior Painting
Exterior house painting requires different materials and techniques than interior work. At Wasatch, our professional exterior painters have years of experience dealing with the particular challenges of exterior work; we have the knowledge and skill to make sure you get an attractive coat of paint that lasts for years. All exterior house paint materials have to be resistant to the elements, UV rays, humidity, mold, and fungus. Before we begin the exterior painting project, we will find and fill any cracks, repair rotting wood, and perform any needed caulking to ensure that the exterior of the house is ready to be painted.
Not all house painters complete this important preparation work, meaning the paint doesn't stick as well and soon begins to chip, flake, and crack. When you trust Wasatch with your exterior paint job, you can be sure that your house paint will last: we put time and effort into the preparation and use only quality materials so that your house will still look great years down the road.
These are the basic steps we take for exterior house painting:
Power Washing,
Sealing/Waterproofing
Caulking
Brush, Roll, and/or Spray Painting
Think of us for any of these services:
Siding Painting
Exterior Finishes
Wood Fences
Trim Work: Doors and Windows
Deck Refinishing
Scraping, Sanding, and Caulking
Pressure Washing
Carpentry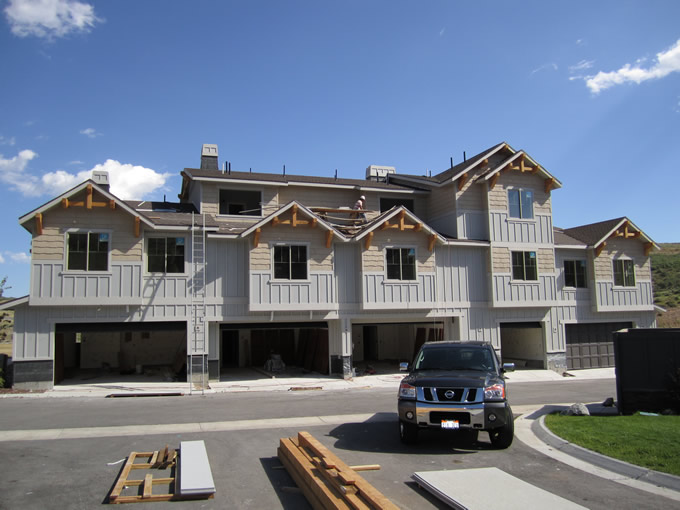 Request a Quote
NameFirst Last
Company
Phone
Email
Project TypeResidentialCommerical
Services Required

Drywall
Paint
Metal Framing
Accoustical

Message